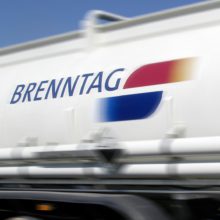 "This is an exciting complementary addition to our product portfolio," commented Dr Thomas Heinrich, European marketing manager Cleaning & Water Treatment at Brenntag. "We are delighted that we will be working with Evonik, which will further strengthen the leading position of Brenntag in the household, industrial & institutional (HI&I) cleaning market in aforementioned countries."
Brenntag is already a successful partner for Evonik in various markets all over the world. We're looking forward to the co-operation with Brenntag for a sustainable positive business development of our business in Europe," says Dietmar Träumer, vice-president household care Europe at Evonik.
The agreement covers the full product portfolio of the business line 'Household Care' from Evonik's business unit Consumer Specialties, which specialises in the manufacture and supply of raw materials and additives to the household, detergent, car care and industrial & institutional markets.
Products included within these industries are: Rewocare, Rewocid, Rewocoros, Rewomid, Rewominox, Rewopal, Rewopol, Rewoquat, Rewoteric, Tego Antifoam, Tego Betain, Tego Polish, Tego Sorb, Tegopren, Tegosoft, Tegotens and Tegotop.