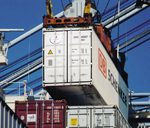 Called D2D, DB Schenker Rail UK will handle the full movement of containers for clients, utilising road and rail haulage, to ensure goods are delivered on-time as requested under a door to door service.
The move is in response to a number of retail and manufacturing customers who wish to increase their use of rail freight for capacity, environmental and cost reasons.
In offering the D2D concept, DB Schenker Rail UK is able to remove a potential barrier to using rail freight by integrating it with existing supply chains.
Carsten Hinne, Managing Director Logistics for DB Schenker Rail UK, said:
"Rail freight is easy to use and our job is to ensure we make it so for customers. D2D allows ease of access to rail freight services for customers in the knowledge that handling within ports and final mile deliveries by road are already connected. Our aim is to help retailers and manufacturers increase their use of rail freight and with D2D we are confident we have a product that meets their needs."