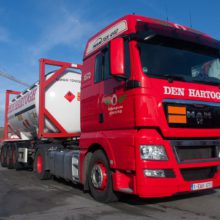 Den Hartogh has selected MAN trucks to support its strong focus on operational excellence, which places particular emphasis on cost efficiency and reliability of service. All the trucks are specified as MAN EfficientLine, which incorporates a host of fuel and weight-saving measures. The purchase is also another step forward in Den Hartogh's continual push to reduce CO2 emissions.
According to board member board Gerard van der Kroon: "The decision to choose MAN trucks was driven by corporate financial motives together with the high safety demands we place on new material acquisitions. We maintain and repair our own extensive international fleet, so we also welcome the backing of the MAN FleetCare logistics service to ensure super-fast availability of whatever spare parts we need."
As of 24 December 2012, the headquarters of Den Hartogh Logistics will be located in a new office on the Willingestraat, Waalhaven, in the Port of Rotterdam. This means that all office staff from the locations in Rozenburg and Oss will now be together under one roof.
Office address:
Willingestraat 6, 3087 AN Rotterdam, The Netherlands
Tel: +31 88 162 00 00
Fax +31 88 162 01 11