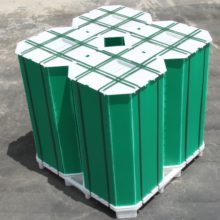 The 'g-drum' is a reusable, collapsible 208 litre drum with a 'bag-in-a-box' design that uses a product-specific flexible internal liner bag made from 3-ply food & pharmaceutical grade polyethelyn (PE) film to store not only liquid cargoes but also for dry flowable or high viscosity products.
Developed and patented by International Liquid Packaging Solutions Pte Ltd (ILPS), g-drums provided by GAC Packaging Solutions are claimed to deliver up to 10 percent savings in overall operational costs compared to traditional steel drums.
As the internal liner bag is changed between each cargo load, the risk of contamination of sensitive commodities, such as foodstuffs, pharmaceuticals or chemicals, is significantly reduced. Customers also benefit from lower operating costs as the g-drum eliminates the need for pre-conditioning and post-cleaning disposal, and reduces responsible care premiums.
Christer Sjodoff, GAC Group vice president – solutions, said: "The principle underpinning GAC Solutions is to develop and bring to market innovative solutions to meet our customers' changing needs. The g-drum really fits that ethos. It is a fantastic product for customers transporting and storing liquid bulk cargoes, offering a much more efficient, cost-effective, safe and environmentally-friendly way of transporting large volumes of liquids."
GAC Packaging Solutions hires out the g-drum units on a contract basis, providing complete supply chain management. It is responsible for delivering the drums to suppliers for loading, collecting them once loaded, shipping the loaded units to the end-user and finally collecting the empty, collapsed drums and returning them to the original loading points. GAC Packaging Solutions also manages all documentation and provides track and trace monitoring throughout.
Johan Andersson, acting managing director of GAC Packaging Solutions, added: "g-drum is a simple solution to a complex problem, but sometimes the simplest solutions are the best ones. The g-drum leasing programme makes good sense – both financially and ecologically – for our customers, who are seeking to make cost and efficiency savings wherever possible, whilst also reducing their carbon footprint."