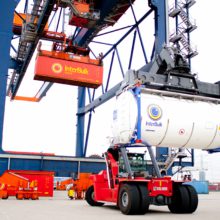 Chairman David Rolph said that after achieving two years of strong revenue growth, the weak external business environment, largely due to the Eurozone crisis, hit activity levels in its main market, the European chemical sector. As a consequence, revenue declined by 7 percent to £280 million. Despite these industry-wide pressures, the impact on profit was offset by the improvement in margins achieved by the strengthened management team in its dry bulk division and lower interest costs flowing from the deleverage achieved in 2011. These factors ensured the profit before tax (before exceptional items and amortisation) remained similar to the previous year.
A recovery was achieved in the second quarter following the adverse impact of the initial wave of the Euro crisis seen in the first quarter. "We had hoped that this recovery might continue into the second half, but renewed Euro concerns drove the European economy back into recession with weak business confidence evident throughout," added Rolph. The liquid bulk division's performance was impacted by a combination of the weak economy and industry-wide overcapacity due to the addition of new tank containers which were built mainly in 2011. Economic uncertainty has led to global volatility in the supply chains and this provides daily operational and fleet balance challenges. Dry bulk has also seen reduced activity in the European chemical sector but has compensated for the margin impact with growth in the food sector plus intermediate and on-site storage solutions.
"In early October 2012, we announced the successful completion of the refinancing programme. The new debt package in place since the beginning of the new financial year provides a sound platform for the next four years and reduces the group's cost of debt by approximately £1.5 million a year. We believe the success of this programme and the support of the bank is testimony to the substantial deleveraging achieved in recent years, the robustness of our business model and the strength of our market position," said Rolph.
Meanwhile, Alişan Logistics and Interbulk Group have announced a further business partnership. Alışan is InterBulk's local chain representative and business partner in Turkey.
The two have been working together on several successful projects for the Turkish chemical industry for years. With the new business partnership the partners say they will be able to offer even more value to clients as a one-stop-shop. Services include: international transport, domestic distribution, intermodal transport, supply chain management, warehousing and value added logistics, terminal logistics, and on-site logistics.