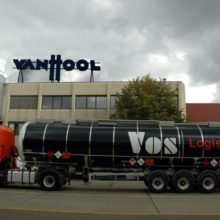 Vos Logistics Uithoorn is a specialist in transporting pitch, crude tar, bitumen, naphthalene, creosote and similar liquids. This third semi-trailer will enable the company to expand its activities in ADR liquid transport.
The ADR semi-trailer has a capacity of 55 cbm and is divided into three compartments. To reduce its tare weight, plastic plating and lighter components have been used, such as aluminium landing legs and rims. The tanker can also be heated in part by steam and in part by electricity.
The jumbo tanker was developed in close co-operation between Vos Logistics and its customer, Koppers, a market leader in tar distillation. It will be used for the combined transportation of Koppers' naphthalene and crude tar to Germany. Once the naphthalene has been discharged, the truck will continue its journey to a supplier of crude tar, before carrying tar to one of Koppers' factories, where it will be discharged and naphthalene will be loaded again.
John van Diemen, business unit manager at Vos Logistics, said: "This solution meets the growing customer demand for more sustainable transport. By using this jumbo semi-trailer we will cut CO2 emissions by 63,100 kg a year."
Kirsten Povlsen, logistics manager at Koppers, added: "Koppers is continuously looking for greener and more efficient solutions. Vos Logistics understands our vision and has been helping us achieve it for more than 20 years. The jumbo semi-trailer is a perfect match for our business philosophy. We will use it on combined naphthalene/tar transports to and from our locations in Denmark and the Netherlands."