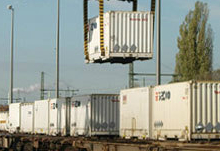 Semi‐trailers and Switzerland were chosen as
Semi‐trailer transport by rail requires the largest loading gauge (P400), which places the greatest demand on the infrastructure through its 4m height clearance need;
The aim of Switzerland to reduce the number of transalpine truck journeys per year to 650,000 by 2018 will likely result, during the coming years, in the shifting of many semi‐trailers from road to rail;
The Gotthard Base Tunnel, slated for completion in 2016, is likely to play a major role in realising this aim; UIRR has already pointed out in a press statement on 20 February 2012 that sections of the Gotthard line leading to the new tunnel will require an upgrade to make the loading gauge (P400) homogeneous throughout the entire line.
Framework conditions for rail transport in Europe are considered to be the closest to mode‐neutral in Switzerland.
Three transhipment techniques, CargoBeamer and two variations of Modalohr (horizontal and UIC), were chosen for examination in the study, and a comparison of their respective system‐level total costs to the "conventional" method – based on vertical transhipment of semi‐trailers – known as Unaccompanied Combined Transport (UCT) was carried out.
Conducting the actual analysis on an 860km long route connecting Cologne and Milan, the study found UCT to have the most favourable performance when measured in overall system costs. Moreover, UCT emerged superior in every cost category examined in the study. The two Modalohr systems produced 30% higher overall system costs, while CargoBeamer turned out 40% more expensive.
Mr. Martin Burkhardt, Director General UIRR, said: "Before making a recommendation to decision‐makers responsible for delivering the modal‐shift aims contained in the European Commission's 2011 Transport White Paper, as well as the 2018 target for modal shift in Switzerland, UIRR intended to present scientific evidence to support the most efficient allocation of resources by market players, consignors and the transport sector, as well as governments and political decision‐makers. And the findings point in one direction: towards "conventional" UCT."