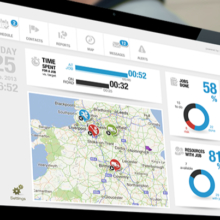 JobWatch is an easy, plug-and-go mobile solution that helps companies plan, manage and schedule their mobile workforce.  The solution includes everything from a rugged mobile computer, mobile communications to black box GPS vehicle tracking, Sat-Nav, work and delivery management, timesheet, expense recording and vehicle defect reporting for only GBP 39.95 a month.
The cloud-based 4G telematics is provided as Software as a Service (SaaS), which significantly  reduces the cost of mobile computing, eliminating the need for individual expensive software packages, multiple hardware and costly systems integration.
Running on the latest IP54 -rated BigChange 7-inch and 4-inch  fixed-mount or portable computers, which incorporate built in tracking, the cloud-delivered apps enable any size of fleet operator to benefit from powerful,  labour and time saving solutions. Users simply turn on or off the specific features, enabling them to tailor the solution to fit their exact requirements.  If they want to add more apps in the future, it is a simple matter of switching them on.
JobWatch is an 'out of the box' solution that covers all  areas of live reporting, GPS vehicle tracking, Sat-Nav, mobile communications as well as workflow management, timesheets, driver debrief and feedback, expenses, delivery management, stock management, and it report vehicle defects. The development helps companies improve customer service, increase billable time and eliminate paperwork in the office and on the road.
"Our goal is to help our customers to revolutionise their businesses in these times of austerity and that means helping them become more profitable. JobWatch speeds cashflow by confirming job completion and enabling same day invoicing. It also optimises mobile worker time, enabling up to four more jobs a month to be completed and saving eight hours of admin time for each mobile worker. It will also save money by reducing fuel use by as much as 10 per cent, travel time by around 10 hours a month for each member of the mobile team and ensuring zero job failure," says Martin Port, CEO, BigChange.