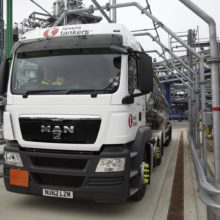 The plant, which is scheduled to become fully operational in the first quarter of 2013, will eventually produce 420 million litres a year, making Vivergo Fuels the UK's single biggest bioethanol producer.
Lewis Tankers will use a fleet of dedicated road tanks to distribute the bioethanol to the refineries of the UK's major fuel suppliers, where it will be blended with gasoline to meet the UK government's targets under the Renewable Transport Fuel Obligation.
Stewart MacDonald, Lewis Tankers' managing director, said: "This is an important contract win for us. We will be responsible for all Vivergo Fuel's UK distribution, which, when production reaches full capacity, means we will have a fleet of 20 plus dedicated road tanks delivering over 3.5 million litres of bioethanol every week."
Rob Murray, Logistics Manager at Vivergo, said: "We're delighted to have awarded this contract to a local supplier and look forward to working closely with Lewis Tankers in the road based distribution of our bioethanol."
Initially Lewis Tankers will route and plan all movements from its head office in Hensall but this will be reviewed as volumes increase to a level where planning support may be moved on-site at the biorefinery at Saltend.
Vivergo Fuels is a joint venture set up by AB Sugar, BP and Dupont five years ago. Its bio-refinery will turn 1.1 million tonnes of feed-grade wheat into bioethanol every year with by-products converted into 500,000 tonnes of animal feed meaning nothing goes to waste. The company estimates that running vehicles on the bioethanol it produces will be the equivalent of removing 180,000 cars from the road while the animal feed will support 20 per cent of the UK's dairy herd.
Lewis Tankers currently operates a fleet of over 120 tankers from 9 operating bases within the UK.  Lewis Tankers serves a number of leading customers in the oils, chemicals and gases sectors, including Petrolneos, Kuwait, Scottish Fuels, Gulf Aviation, Brenntag, Univar, Stepan, Sasol, Scotia Gas Networks, and World Fuel Services.