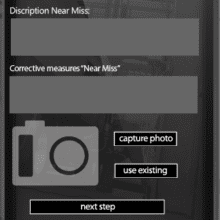 When it comes to implementing safety, health, environmental and quality standards – known for short as SHEQ – the Hoyer group feels obliged to meet only the highest standards. In order to realise this objective Hoyer has made safety awareness a high priority throughout the group. Against this background, the company is constantly exploring new ways of raising the frequency of near-accident reporting, for example.
The number of incidents documented internally has certainly been increasing over the years, but until now the necessary cross-linking with modern communication media did not exist. This is how Hoyer came up with the idea of programming an in-house Hoyer app to enable uncomplicated recording of near-accidents via smartphone.
The aim of the development: the app should require a minimal lead-time and not only be available to Hoyer employees or subcontractors, but also for clients and trade colleagues in the transport sector.
And this is how the app works: after entering the email address of the person reporting the near-accident, it is only necessary to fill out two small on-screen forms with information about the incident. It takes a maximum of three minutes to do this.
The app is currently being tested by Hoyer in the Netherlands. The final version will then be available on the group website (www.app.hoyer-group.com) as well as being available free from the usual app stores.