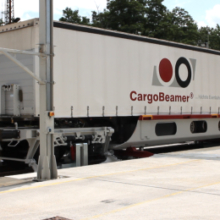 The system uses special wagons and terminals with a cargo handling system that allows all non-craneable semi-trailers to be shifted from road to rail. The semi-trailers are placed into special loading palettes in advance of the train arriving. Once the train arrives an automated loading system can complete the entire loading process in 15 minutes.
CargoBeamer reckons that this system will enable a train to be ready for departure one hour after arrival.
The company plans to build a terminal ("CargoBeamer Gate") in the new Calais Premier logistics hub, investing approx. €25m, arguing that, with 3.2 million trucks passing Calais annually, the city is predestined to become the CargoBeamer gateway to the UK and to play a key role in the company's European logistics network.
From Calais, CargoBeamer targets two major European cargo routes with high traffic volumes: the east-west-route to the Baltic states via the Benelux, Germany and Poland, and the north-south route to Italy via France, Germany and Switzerland.
The start of operations is planned for 2014.