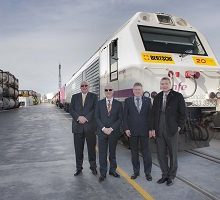 The terminal, located in the centre of the chemical cluster in Tarragona, has 530 meters of rail tracks access with Iberian and European gauge and provides storage capacity for 800 TEU's, fulfilling all safety and environmental requirements.
The terminal offers product transhipment and runs a safety gantry for working at height. Furthermore, storage of dangerous goods is possible and there is a facility to heat containers by steam or electrically.
With these high security standards and the offered possibilities, Bertschi expects to optimally meet the customer requirements and open doors for the development of new projects.