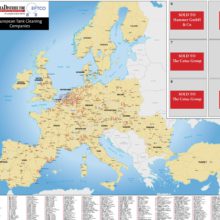 The map's purpose is to 'show the way' to all road tanker, tank container and IBC operators who are responsible for the movement of bulk products around Europe.
This new and exciting product is being printed A1 in size and is to be included in our 'March/April' issue, so to receive your copy follow this link to subscribe.
There are fantastic advertising opportunities surrounding the map and with less than 40% of the availability remaining now is the time to reserve your space. So for your company to be seen all year round by the road tanker, tank container & IBC operators, not to mention the cleaning stations themselves and the many other organisations involved in bulk distribution, please email danny@andpublishing.co.uk
(The image above represents the map in progress, spaces with a red box over the top have been sold and include the details of the companies who have reserved. Please follow this link for a larger size image)
.