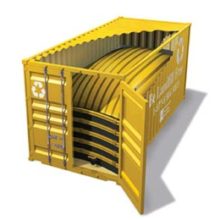 The DHL Flexitank overcomes the problems associated with ISO tank containers, IBC totes or drums and offers a more cost effective and environmentally friendly means of transporting liquid products, a statement said.
Flexitanks are available globally and customers benefit from DHL's worldwide network, it added.
"DHL utilize first tier manufactured flexitanks to provide the highest quality product to our clients," said Dominique von Orelli, Ocean Freight head EMEA, DHL Global Forwarding.
"The manufacturing quality and reliability of flexitanks have improved significantly over the past few years, which are especially useful for our chemical sector customers when shipping goods in vast volumes. It holds up to 24,000 liters and is a multi-layer bladder designed to fit into a standard 20-foot ocean container."
Thanks to its flexibility, every inch of container space is available, which allows customers to ship up to 31 percent more cargo compared with IBC totes and drums. There is also less need for packaging, handling and loading, which in turn increases supply chain effectiveness and thus lowers costs.
Apart from that, ISO tank containers require return loads, long-term leasing agreements, and expensive cleaning procedures in order to avoid cross-contamination, added von Orelli.
The DHL Flexitank is recyclable, which enables customers to reduce their shipping costs by paying one-way international freight costs only. The range of goods which DHL is able to ship with Flexitanks also encompasses various other industries besides chemicals, such as consumer goods (beverages, concentrates), forestry (tall oil), parts of life sciences (enzymes), and energy (bio-fuels), von Orelli noted.