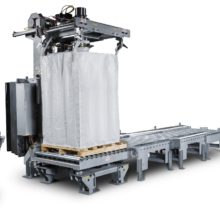 The NBE sanitary bulk bag filler systems also support process practice protocols where 3-A Accepted Practices or other cGMPs are necessary. They include features such as 32 Ra surface finishes to simplify cleaning; tool-less, demountable assemblies to speed inspection; 3-A compliant components to aid in sanitary standards conformance; HEPA air filtration for sanitary bag inflation; and a structural framework leak test system to facilitate clean-in-place (CIP) procedures.
In addition, they offer NTEP-certified weigh devices to assure certified weight accuracy to +/- 0.01 percent, to a 4,500 pound bag weight.
The integrated automation standardizes controls programming and expands functionality to include legacy systems. System-wide automation of process operations, diagnostics, and reporting are controlled through a single HMI. NBE integrated automation improves equipment performance, optimizes throughput, and increases operator safety.
Visit http://www.nbe-inc.com/