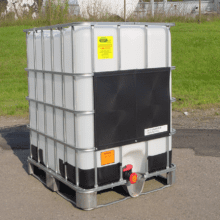 "What we did different in 2012 is think outside of the box with large end users. In the past our focus was on our customer and their needs. However, we discovered we needed to place as much focus, or even more on our customer's customer. By listening to their needs we were able to start new initiatives and craft innovative programs that would help them in recycling used industrial packaging. In the long run it helped our customer and built a stronger bond between our companies and theirs" said Mike Harding, Vice President.
Much of the efforts were coordinated through the company's Return Net System. A continent wide free logistics program that allows the return of used industrial packaging back to IBC North America/Clean Tide at no cost to the user. (www.returnnetsystem.com)
Due to investment in reduction equipment at all of its nationwide locations, Clean Tide Container was able to handle unique bulk packaging and process it quickly and economically. "We knew that 2012 was going to be a big year for us. The investment we made in reduction equipment paid off for us. We also made great improvement on internal processes in terms of record keeping, safety protocols and environmental precautions. I think this helped folks see that we are serious when it comes to handling the end of life of all types of packaging" said Michael Skeya, Vice President of Operations at Clean Tide Container.
The company is known for its activity in the Agricultural Chemical market. A large part of meeting the 10,000,000 pound goal was thanks to increases year over year in the company's involvement in AGCHEM. "The agricultural chemical market is the pace setter when it comes to recycling plastic industrial packaging. Their requirements are stringent and we have been able to earn their confidence through providing the level of service and health, safety and environmental protocols they call for. They in essence have helped us be an even better partner with customers from other industries." Said Dick Harding, CEO of IBC North America and Clean Tide.
The goal for 2013 for the company is 12,000,000 of recycled plastics. This will made possible through more partnerships, additional recycling facilities and a focus on recycling un-compliant IBCs at end of life in the AGCHEM industry.