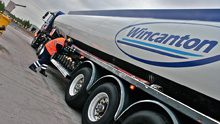 The units – 90 Mercedes Benz Actros and 25 Renault Premiums – will initially be used by the company's containers division but are versatile enough to be deployed to any part of the business as and when required.
It is part of a company-wide modernisation programme to replace the fleet's older, less efficient, vehicles with the specially-adapted, Euro 5-compliant tractor units.
"This is all about how we as a company manage both our physical assets and the data generated by those assets and come up with ways and means of creating new and efficient transport opportunities that are both green and cost effective," said Ian Wilson, Wincanton's MD for the containers division.
"It's one thing to go out and buy and operate a truck and put it into operation. However, to really make that asset work for you in the modern market you have to be innovative to drive down its service costs.
"This brand new automatic sensor system is a considerable breakthrough in our efforts to create the most efficient, cost-effective and, importantly, environmentally-friendly supply chains available."
Although there are other commercial vehicles on UK roads that can be adjusted to make the vehicle more aerodynamic Wincanton believes it has scored a "first" by applying an engineering solution that automatically responds to its environment, rather than rely on manual adjustments.
Ian Wilson said their research showed considerable reductions in the amount of fuel used by vehicles fitted with the sensors, and that all new Wincanton vehicles coming into its fleet would be fitted with the system as standard.
"A large truck moving at 50mph is using an incredible amount of energy just to get through that air," he continued.
"This simple yet effective roof sensor system will make the new vehicles far more efficient at cutting through that air and we estimate it will save us somewhere in the region of five per cent in fuel costs compared to our older vehicles and any other commercial vehicle on the road for that matter.
"What's more, we will be able to reduce our and our customers' impact on the environment, an ever-increasing priority in today's market."
He added: "All transport operators are working with incredibly slim margins and, in recent years, spiralling fuel costs have meant in some cases operators have been pedalling really hard just to stand still.
"This innovation, and many others that we are researching and bringing to the market, will ensure we offer our customers the most efficient and cost-effective supply chains, keeping Wincanton at the forefront of this sector."