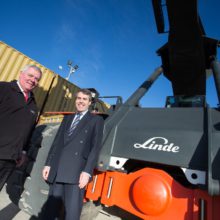 Jim Thomson, operations director at Potter Logistics explains, "The reachstacker will be kept busy moving products for our current customers at Selby. In addition, it will take part in trials for new domestic rail services in 2013.
"We chose to purchase from Linde because, in our experience, they supply robust, well-engineered, reliable and cost effective machines. As a consequence, we have selected their materials handling equipment at all our distribution centres."
Nigel Richardson, sales manager of Linde UK Heavy Trucks adds, "This reachstacker features the most recent advancements in power units and fuel efficiency regulations to meet the newest EPA regulations.
"In addition, we have fitted this line of reachstackers with a state of the art load management system which carefully monitors and protects the machine's overall structure, operating limits and the operator interface. In summary, our new design ensures maximum productivity is achieved with minimal energy waste and environmental impact."