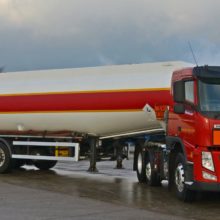 The deal sees an investment by Suttons in new equipment to add to the company's existing fuels fleet.
Suttons Group Managing Director, Andrew Palmer said
"We are delighted Total chose to award this business to Suttons. This contract strengthens our position as a supplier of bulk fuel transport.
"Suttons will bring industry leading standards of health and safety and operational excellence to the contract and we look forward to a successful partnership."
The contract focuses on business to business commercial fuel deliveries nationwide and Paul Maloney B2B Operations Manager for Total UK Limited said:
"We selected Suttons following a competitive tendering process – Suttons has a proven record of adding value and delivering a consistent and reliable service to its customers in the bulk fuel sector.
"The company also recognises that safety is paramount and must always come first."
The UK fuels fleet is controlled from a petroleum dedicated operations centre in Purfleet in Essex.
Suttons operates globally with key business centers in Antwerp, Ludwigshafen, Houston, Kuantan, Le Havre, New Jersey, Al Jubail, Shanghai, Singapore and Tokyo.