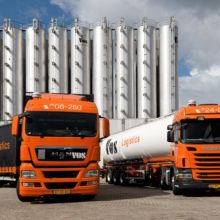 The company recently acquired the activities of VSL SiloLogistics in Oss and took a new distribution centre into operation in Roosendaal in November.
At VSL Oss, activities include the warehousing and storage, packing and distribution of dry bulk goods such as granules, starch and similar products. They are a valuable addition to Vos Logistics' existing bulk transport activities and complement its strategy of growing further in customer-specific and added-value warehousing and transport. The site is located on the water and has 45 silos and a storage capacity of 30,000 sqm.
The new distribution centre in Roosendaal specialises in decorative coatings (including Sikkens and Flexa), adhesives and fillers (including Alabastine). Every day, about 25 employees handle and ship customer orders for the retail trade. In the near future, they will also mix and blend coatings to customer requirements. The centre is 15,000 sqm in size and was designed and built in full compliance with the sustainability standards set by BREEAM (Building Research Establishment Environmental Assessment Method).
The location will act as an additional hub for the Benelux distribution activities. Vos Logistics will develop its warehousing and regional distribution services for multiple customers from this platform.
Vos Logistics launched its fleet renewal program in 2011. Its ambition is to replace 600 tractor units with Euro 5 and 6 trucks. Some 270 new trucks were purchased in 2011 and 160 last year. The fleet is not only being modernised but also made more sustainable. Vos is now operating 14 trucks that drive exclusively on LNG. These trucks are used chiefly for national distribution in the Netherlands, Belgium and the west of Germany. Vos is targeting more growth in this segment.
The company is planning to replace a further 200 trucks in 2013. It began to replace its trailer units in the fourth quarter of 2012. In total, 500 new loading units will be purchased, including mega-trailers, silo trailers and swap body trailers. The new equipment complies in full with current loading requirements and can be used on multimodal operations. About 200 mega-trailers and silo trailers will be taken into operation in the first half of 2013.