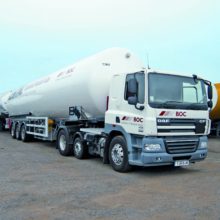 The facility will also be made available for use by other companies operating dual-fuel vehicles, adding a critical new location to the UK's network of LNG refuelling sites and helping stimulate further growth in low-carbon transportation.
Ian Jackson, BOC's National Transport Manager, said BOC's products are "business-critical" for many of the group's customers. "That is why we had to test this technology rigorously before announcing this substantial investment for our fleet. The fact that we have developed our own, highly efficient refuelling technologies to service these vehicles means that we can take maximum advantage of the benefits LNG can bring."
BOC, a member of The Linde Group, has developed a 'no-loss' LNG system that uses cryogenic cooling to temperature-condition the fuel before dispensing. This ensures that no fuel is lost to evaporation or venting during the refuelling process. Typically, 20 percent – and sometimes more – can be lost with conventional systems, so this represents a major cost (and also carbon) saving for users. Features include gas-leak detection sensors linked to automatic shutdown protocols.
Mark Lowe, BOC business manager, was clear about the potential of LNG for transport systems. "Currently, nearly all heavy road transport depends on diesel. LNG produces far fewer emissions than conventional fuels and can help fleet operators reduce their carbon footprint dramatically. At the same time, mile-for-mile, LNG is very competitive in terms of cost."
BOC is working closely with partners to establish a viable market for LNG-fuelled commercial vehicles in the UK. It has recently entered into a project with the Stobart Group, part-funded by the UK government's Technology Strategy Board to evaluate the vehicles and the refuelling technologies in the field.
The project will track the usage of LNG, which typically accounts for up to 60 percent of total fuel consumption for a dual-fuel vehicle, as well as the reduction in CO2 emissions.
The UK's first ADR-compliant dual-fuel vehicle specially engineered for transporting hazardous cargoes – a Mercedes Actros 2564 6×2 truck – was successfully trialled at BOC's St Helens depot in 2012.