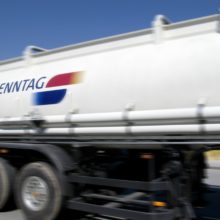 "We believe Brenntag's extensive network of facilities will provide the necessary Just In Time delivery capabilities required by customers involved in the de-icing markets. We are pleased to enter into this collaboration with AkzoNobel in bringing this 'Green' product to market", said Karsten Beckmann, Chief Operating Officer Brenntag Europe.
"Brenntag already manufactures the Ecosel®BioCare anti caking agent for AkzoNobel. This agreement is the next step in spreading our innovative and benign salt technologies in the de-icing markets', said Olivier Hayard, Global Director Marketing & Sales of AkzoNobel's salt business. He added: 'We like to share our latest technological developments with our markets and find in Brenntag the strategic partner to accelerate this ambition. Society at large will benefit from this innovation: In highway de-icing Ecosel®BioCare is the biodegradable, cyanide-free alternative for existing anti caking agents."
AkzoNobel's Ecosel®BioCare has been developed as an anti-caking agent for both chemical transformation salt and road de-icing salt. During the last three winters, customers' experiences with Ecosel®BioCare were part of the research and development process. The testing phase also included practical experience with transport, unloading and storage.
Ecosel® is the brand family name for AkzoNobel's sustainable innovations and technologies, soon available to the global salt business and the related chemicals industry: A wide range of high value additives and technologies under the Ecosel® flag. Annually, AkzoNobel Industrial Chemicals manufactures 6 mln tons of vacuum salt in plants in the Netherlands and Denmark.