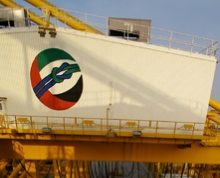 DP World Chairman, Sultan Ahmed Bin Sulayem commented;
"DP World delivered profit for the year of $749 millionfollowing a strong year of operational performance from its global operations, prudent financial management and proactive management of assets, whilst continuing to invest in the future growth of the Company." 
Revenue of $3,121 million was 5% ahead of the prior year driven by strong growth in the Middle East, Europe and Africa region representing our ability to improve revenue from both our container and non-container operations even with the tougher operating environment in some of our markets.
Adjusted EBITDA and adjusted EBITDA margin increased to $1,407 million and 45.1% respectively.  Our focus on improving customer service through improved efficiencies and productivity has led to higher utilisation and EBITDA margin particularly in the Asia Pacific and Indian Subcontinent region and the Middle East, Europe and Africa region.
DP World continues to improve cash generation with net cash from operating activities at $1,231 million.  This has helped reduce net debt to $2.9 billion and strengthen our balance sheet, positioning us strongly as we continue to invest in quality long term assets.
DP World Chairman, Sultan Ahmed Bin Sulayem commented;
"Delivering this improvement in profits during what has been a challenging operating environment shows that our portfolio is focused on the right markets, and on delivering the right operations and service to our customers.
"This year, we have continued to actively manage our portfolio to maximum advantage, divesting non-core or low return assets.  This has enabled us to move capital into those markets where we see more profitable returns whilst strengthening our capital base.
"It is our actions today, whether investing for growth, actively managing our portfolio of assets or strengthening our balance sheet that will allow us to deliver higher returns for our shareholders over the medium term.
"Reflecting this strong performance, combined with the realisation of profit from the monetisation of assets during the year, the Board of DP World is recommending total dividend of $199 million, or 24 US cents per share.  This comprises a 10% increase in the ordinary dividend to 21 cents paid with a special dividend of 3 cents.  The Board is confident of the Company's ability to continue to generate cash and support our future growth whilst maintaining a consistent dividend payout."
DP World Group Chief Executive, Mohammed Sharaf commented;
"In 2012 we have focused on our existing operations through the delivery of exceptional customer service from improved efficiencies in our terminals.  This has allowed us to deliver good revenue growth and manage costs, resulting in a significant improvement in adjusted EBITDA margin to 45.1%.
"Whilst the operating environment has remained challenging in some of our regions, it is the strength of our operations in Africa, Middle East, South America and Asia which has supported our improvement in adjusted EBITDA to $1,407 million.
"Last year was also an important period in terms of progressing the delivery of four major development projects around the world.  Over the next two years, we will deliver a further 10 million TEU of new capacity.  The first of this will come on stream in the next few months at Jebel Ali (UAE), with Embraport (Brazil) and London Gateway (UK) opening later this year. The fourth, the new terminal at Jebel Ali, is well underway and set to open next year.  We are in no doubt that the delivery of this new capacity will be transformational for DP World over the medium term.
"Operating conditions in each of our markets in the first two months of 2013 have been consistent with those experienced at the end of last year and the economic environment continues to remain uncertain.
"We remain confident about the long term outlook of our industry and remain well positioned to deal with a changing economic environment as well as continue to focus on our established high standards of service to customers."