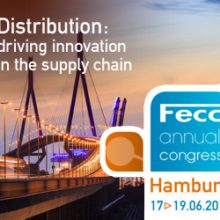 With a revamped programme the Fecc congress honours its theme by introducing different elements to the schedule. This year's variations include parallel sessions on the first afternoon on how to better promote your business and chemical legislation and how this in turn affects the industry. Learn how to use marketing, communication and social media tools that will help you grow your business, with presentations on marketing, corporate communications and social media. Focusing on legislation within and outside Europe and how this affects the industry. This parallel session will give a comprehensive idea on what companies should put in place to face these challenges.
We are also pleased to confirm that this year's key note speaker will be Mr Mark Stevenson, a writer, ideas generator and futurist. He is author of the bestselling book An Optimist's Tour of the Future, which was described by The Wall Street Journal as "sharp and fascinating". He is probably best described as an inspirational futurist.
But he is not the only high profile speaker you will be seeing this year. Professor Dr Thomas Straubhaar, Director and Chairman of the Business Hamburg Institute of International Economics (HWWI) will be giving a speech during the opening session. Dr Straubhaar is an economy expert widely known in Germany.
The first session of the congress will tackle how to do business in emerging markets, discussing the challenges and competition in chemicals and ground realities that should be at the top of every chemical executive's agenda, when entering these markets.
The leaders of the distribution industry are an example of positive adaptation to diverse situations, customers and stakeholders. Fecc strives to give them resources to continue developing their business strategies; this will be the core of the last afternoon of the congress, where experts such as Ms Jane Sparrow renowned leadership coach and Mr Martin Vetter-Diez, Managing Director at HSBC Trinkaus & Burkhardtin finance expert will share their knowledge with the delegates.
Fostering cooperation within the industry is one of Fecc's objectives, and the congress offers the perfect opportunity to encourage this. Various social activities are part of the programme specially thought to offer the participants chances to meet colleagues and shape the future of the industry.
As the leading event for the European chemical distribution and trading industry, the Fecc congress is the must attend event for top leaders of the sector. Sponsoring the congress is a great opportunity to generate new business and reach a uniquely targeted audience.
Fecc invites you to register and view more detailed information about the programme and sponsorship opportunities on: www.fecc-congress.com
Join us and help shape the future of our industry!
Early Bird until 29 March, register before and save 200€ on your registration.