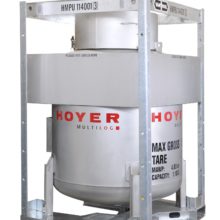 The tanks, with a capacity of around 1,100 litres, are suitable for transport or storage of smaller quantities of product under pressurised conditions. They carry all relevant hazardous goods licences and can be deployed worldwide.
"Adding nitrogen, for example, to mini tanks, ensures that the product being transported is not brought into contact with other substances," says Uwe Bartels, business development manager at Hoyer, explaining the special functions of the mini pressure tanks. "That is particularly important with corrosive and toxic products in guaranteeing impeccable quality during transport or storage."
Configuration of the tanks can be tailored to individual clients' requirements. It is no problem, for instance, to equip them with RFID (radio frequency identification) or GPS. Hoyer also offers a full range of services for this new container family, such as leasing, transport, cleaning or fleet management.