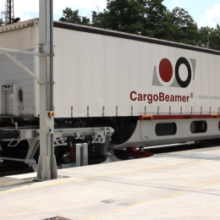 Representatives from CargoBeamer, pioneers of a new technology which will remove 60% of trucks from Europe's roads, are to explain how the launch of their commercial operations will affect the UK logistics industry. From September 2013, CargoBeamer's system will enable semi-trailers to be removed from trucks and transported from Calais, via Berlin, to Legnica in Southern Poland by rail. The technology is already operational from Wolfsburg to Bettembourg, Luxembourg, making 12 round trips per week to transport parts to Volkswagen's Wolfsburg facility. The facility will be home to the first commercial CargoBeamer terminal from April 2013.
CargoBeamer CEO Dr Hans-Jurgen Weidemann will present on the company's plans to develop a European network of terminals, starting with a route into Southern Europe from 2014. Eventually, the system should also be operational in the UK, although the firm has not yet confirmed a date. Dr Weidemann will be joined at the event by Didier Caudard-Breille, from property developers DCB International, to discuss the GBP 264m Calais Premier logistics park.
Construction work on Phase One of the project, which will house 220,000m2 of logistics warehouses, is to start in September 2013. And Antoine Ravisse, from the Calais Chamber of Commerce, will present on the GBP 500m expansion of the Port of Calais, which will begin early in 2014.
The event takes place between 6pm and 9pm on Wednesday 17th April, at the Marriott Hotel, Marble Arch.