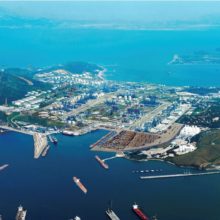 AGT will be one of Turkey's largest container and general cargo terminals and will be entirely operated by APMT under a concession agreement with operations expected to start in summer 2015.
The deal is significant for the bulk liquids industry because the site in Nemrut Bay, near the port town of Aliaga, is located next to one of the Turkey's largest petrochemical clusters. The port also lies just 50km north of Izmir, the country's third biggest city with a rapidly growing population of 4 million. Izmir is also said to be the second most important industrial city (after Istanbul) in Turkey.
Petkim Petrokimya Holding AS is a subsidiary of Socar Turkey Enerji AS, part of the State Oil Company of Azerbaijan (SOCAR). SOCAR generates some 50 percent of annual Azerbaijan state income.
Petkim, through its port subsidiary Petlim, is APM Terminals' direct partner in the agreement. Petkim is listed on the Istanbul Stock Market and produces around 3 million tonnes of petrochemical products a year. It also owns the rights to operate Petkim Port.
At present, Petkim operates factories and refineries producing low- and high-density polyethylene, polypropylene, polyvinyl chloride, ethylene glycol, purified acid, aromatic hydrocarbons, ethylene-propylene, chlorine alkali, vinyl chloride monomer, plastic works and phthalic anhydride.
The initial investment for the container terminal is approximately US$400 million with further investments depending on market demand. APMT will have the right to operate the port for a period of 28 years which may be extended.
CEO of APMT Kim Fejfer explained that the independent port operator sees the deal as a winning combination of Petkim Port's location, its market access and natural deep water.
"Turkey is a very important high growth market which we are pleased to enter, together with strong and well respected business partners such as Petkim and SOCAR," he said. "We look forward to establishing a long term presence in Turkey and apply APM Terminals' strong operational skills as well as our customer and safety focus into further developing the Izmir area into a key strategic logistics centre."
The hinterland for the port is the Aegean Region with a population of 9.6 million. Izmir has an existing container port still owned by Turkish State Railways (TCCD) which was responsible for running the country's ports for decades before the government began auctioning off facilities to private operators. However, the current port has virtually no room for expansion as it is located near the city centre surrounded by prime residential and commercial land.
With current market utilisation already at 90 percent, the area needs more port capacity to service growth, claims APMT. Container volume growth in the Izmir area is driven by a combination of industrial manufacturing, import of consumer goods for a rapidly growing population and agricultural exports.
Petkim's port will offer 15.5m water depth and an efficient access to Turkey's high growth market. The initial capacity of the new terminal will be 1.5 million TEU, which is 50 percent more than the capacity of the current city port of Izmir.