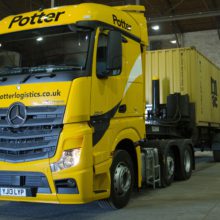 Potter Logistics' Northern rail freight terminal and Selby distribution centre (DC) is located on a 62 acre site in close proximity to the Westmill production facility, making this an ideal partnership.
Rice will be delivered into Selby via two main channels. Firstly, Westmill, in conjunction with shipping line MSC, will deliver rice in containers from around the world using the daily multimodal service from Felixstowe. Secondly, Potter Logistics will be collecting bulk rice shipped into the port of Hull.
Once the rice arrives at the Selby DC, Potter Logistics will transfer the containers and bulk loads to the dedicated warehouse. Here, bulk rice will be sampled and unloaded by rice type into specially built bays, capable of storing up to 2,400 tonnes each. The bagged rice will be palletised and stored in a dedicated 60,000ft2 warehouse. Organic rice will be handled in a specified area elsewhere on the Selby site.
Bob Amon, head of logistics for Westmill Foods comments on the expanding relationship with Potter, "Westmill has had a strong relationship with Potter Logistics since 2005 which has developed into a true partnership. The recent development of un-milled rice storage strengthens our relationship with Potter Logistics and enables us to reduce our carbon footprint by transferring inland movement of containers from Felixstowe to Selby, from road to rail."
Westmill Foods, owned by Associated British Foods plc., is one of the largest flour, rice, spices, sauces, edible oils and noodles suppliers to the UK and European ethnic wholesaler market, food service, industrial sectors and the grocery multiples.