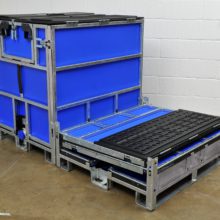 A feature of the Qubit range includes moulded plastic retainers framing the poly cladding to hot dip galvanised external gate frames, offering the end user a smooth screw-less internal surface to minimise damage to the internal liner bag.
In addition, lightweight blow moulded hinged lids eliminate the need for heavy one piece lift off lids, yet are robust enough to enable six unit stack heights in warehousing. The IBC also features moulded urethane handles to aid gate lifting ergonomics, and 1,200mm x 1,000mm footprint to allow more units per truck.
A sliding discharge outlet chock interlocks with compatible 2ins and 3ins discharge outlets. The unit has been product tested to ISTA 3H:2011 as carried out by Rapra PIRA International.
Traditional features, such as a hot dip galvanised base with four-way entry, a folding ratio of 3:1, and stackability when full or empty, continue with the range of Qubit products.