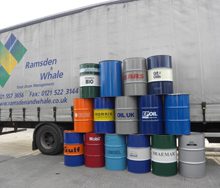 The company is now a member of DRUMCO, a collection of independent new steel drum manufacturers across Europe who have joined forces to compete for European tenders against the large multinational drum suppliers. The 50 year old family business has also launched a new range of super space-saving conical-shaped (nesting) open head drums for the UK market.
The West Midlands based company is also introducing a corrugated profile for its traditional drums, in line with European standards.
"These are exciting times for us as we bring development plans to fruition," said Sales Director Dawn Richardson. " Our focus on customer service will remain our priority, our intention is to expand our range of standard steel drums to include innovative new products such as fully litho printed drums and conical steel open heads."
The company says that its new link with Marseille-based DRUMCO and its other members, will allow it to compete effectively with international tenders, offering UK customers an alternative supply option on pan-European deals.
Full-colour printing has had huge opportunities for Ramsden and Whale, opening up new markets where high profile branding is essential, while the new range of conical-shaped drums, with their space saving advantages, are set to save UK companies huge amounts in storage costs.
The conical open head drums, ranging in capacity from 53 litres up to 220 litres, are ideal for all traditional oil and chemical markets, but are also for food processing industries, powders, metals and much wider markets. "The ability to stack a high number of drums on a single pallet is already attracting a lot of interest from new markets," added Dawn.
Ramsden and Whale says it is committed to continuing its tradition of superior family service to its growing number of UK customers, while extending the same advantages to new customers on the continent.
More information on http://www.ramsdenandwhale.co.uk/ or call +44 (0) 121 557 3656.