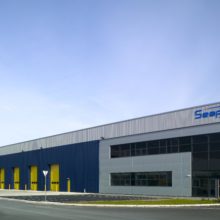 Tata Chemicals Europe is a market leader in the UK for soda ash, sodium bicarbonate and salt, and is already a customer of Seafield. From the operation at Winsford in Cheshire, Seafield provides a warehousing and distribution service, delivering both bagged and bulk product to Tata's customers across the UK and Europe.
The new contract represents a significant increase in Seafield Logistics revenue and was won despite fierce competition. "We are delighted to be enjoying such an opportunity to demonstrate our capabilities as a 4PL provider managing a wide range of logistic elements," said Mark Strong, Managing Director, Seafield Logistics.
The new contract has created around an additional 40 jobs at Winsford, including drivers who have transferred to Seafield from previous providers. The solution is based around a transport and warehouse planning system which will enable Tata Chemicals Europe to have much greater visibility across the whole supply chain. Over time with the use of such visibility and the information available, continuous improvement in the supply chain performance will be achieved.
Commercial Director at Tata Chemicals Europe, Les Weston commented "We're pleased to have entered into this new arrangement with Seafield. Its logistics expertise will help us to focus on what we do best, assured that the distribution of our products are in good hands."
Along with Seafield's own fleet, a partnership with Agility Logistics was formed to manage the distribution for the rest of world deliveries. Seafield will also take responsibility for around 100 sub-contractors.