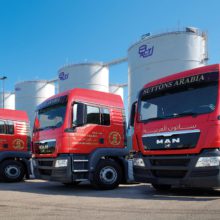 Suttons Arabia is a joint venture between global logistics specialist Suttons Group and Arabian Chemical Terminals (ACT) of Saudi Arabia.
Based in Khobar, Saudi Arabia, Suttons Arabia serves the entire Gulf Co-operation Council (GCC) region and provides full import and export services through a large fleet of ISO tank containers, linking the major petrochemical production in the region to the rest of the world.
Suttons Group Managing Director Andrew Palmer said:
"Suttons Arabia has very ambitious plans for the GCC region and we are proud to be members of the GPCA.
"Suttons Arabia is closely aligned to the GPCA's approach to Responsible Care® which is to work together to improve Health, Safety, Security and Environmental knowledge and the performance of our own activities and those of our customers.
"Suttons Arabia operates with the same strict Safety, Health, Environment, Quality (SHEQ) policies and processes as Suttons Group across the globe and we're pleased to be part of a membership organisation that shares our principles."
"We have invested heavily in equipment and drivers. Our tractor units are manufactured to strict European standards and our trailers feature the latest safety features such as anti-rollover technology. All drivers are rigorously assessed and trained using Sutton's driver trainers."
Suttons Arabia will also be developing value added propositions including on-site logistics services, freight management, drumming, driver training, packed chemical warehousing, tank cleaning and maintenance.
Suttons is based in Cheshire, UK and operates globally with key business centres in Antwerp, Ludwigshafen, Houston, Kuantan, Le Havre, New Jersey, Shanghai, Singapore, Tokyo and Jubail.