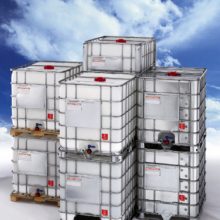 RIBCs (rigid intermediate bulk containers) will be the fastest growing rigid bulk packaging product type through 2017, benefiting from a rebound in chemical production as well as cost and performance advantages over smaller, single-use, or shorter-lived packaging. Although RIBCs have a higher initial cost than other rigid bulk containers, these products offer increased storage space efficiency and longer service lives, allowing large-scale customers to realize significant long-term cost savings.
Moderating growth to some degree will be competition from flexible intermediate bulk containers (FIBCs), which are substantially less expensive than RIBCs (although not as long-lasting) and capable of accommodating liquids if used in conjunction with a liner.
Material handling containers will also experience above average gains through 2017, aided by a rebound in durable goods production following declines during the 2007-2012 period. In addition, demand will be supported by increased emphasis on sustainability, which will lead to heightened usage of returnable and reusable containers in the production of durable goods as well as in the food and agriculture industries.
Healthy prospects for plastic drums will be based on advantages of lighter weight and lower cost than steel drums, along with continuing material enhancements, corrosion and impact resistance, and compatibility with most substances other than solvents and other chemicals that can degrade polyethylene. Despite the maturity of steel and fibre drums, drum demand will benefit from an upswing in manufacturing, especially in the chemical industry. Drums will remain a mainstay of the industry as a result of their relatively low cost, re-usability, effectiveness in the safe transport of hazardous materials, and appeal to users not seeking to transition to IBCs.
Nondurable goods markets comprised over 80 percent of demand in 2012. Among these markets, chemicals and pharmaceuticals, and plastic, rubber, and fiber will experience the fastest gains through 2017. Advances will be driven by heightened manufacturing activity, especially in significant end markets for chemicals, plastic, rubber, and fiber products, such as motor vehicles and construction products. Increased requirements for these basic materials will result in greater demand for packaging used with bulk quantities.
Opportunities in the food and beverage market will benefit from consumer trends such as growing interest in convenient food preparation, which will support demand for a range of bulk ingredients employed in the manufacturing of such foods. The continued economic expansion will stimulate growth in consumer spending, including spending for food eaten or prepared away from home, boosting demand for drums and pails to ship food manufactured and/or distributed to food-service venues.
This upcoming Freedonia industry study, Rigid Bulk Packaging, is available for $5100. It presents historical demand data for 2002, 2007 and 2012 plus forecasts for 2017 and 2022 by material, product, and market. The study also considers key market environment factors, evaluates company market share, and profiles over 30 industry competitors. Click here to purchase the study
.