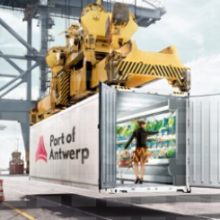 At the Logichem conference in Antwerp, a presentation by the port authority said this investment has resulted in maritime transport for tank storage companies expanding by 151% over the past 10 years. Over the same period the number of tank storage terminals has risen by 40%, to 15, while the total tank storage capacity has doubled to 6.3 million cbm. As a result of the many investments planned the capacity will increase sharply this year. In addition to the growing volumes of chemicals for local processing there are the worldwide energy, trading and chemical companies that increasingly choose Antwerp as a distribution hub.
The three largest oil refineries in Antwerp – Gunvor, Total and ExxonMobil – together are investing billions of euros in their Antwerp sites. Last year no fewer than 14 investment projects were planned and/or carried out by production companies. This was complemented by a number of strategically important tank storage completions.
Industry in Antwerp generates added value of more than €5 billion a year, more than half it by the chemical industry. Industry provides direct employment for 24,000 people, 75% of it in the oil and chemical industry.