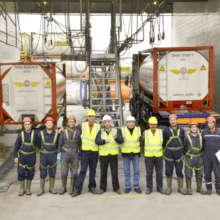 Turkish Minister for the Environment Erdoğan Bayraktar made the presentation in Istanbul on March 1st 2013. Assessment criteria included environmental, Health & Safety, fire safety and building permissions – along with laboratory measurements on waste water discharges.
Atilla Odabaşı (Alisan DenHartogh's Cleaning Manager) remarked: "As a chemical cleaning station, keeping waste water and other discharges low is possibly our most important environmental challenge." Today, more than ever, customers demand the highest standards of cleanliness  so that their current load is not contaminated by the last. Doing that efficiently – for such a wide range of chemicals and solvents – is a real challenge. Atilla added, "The SKB audited our last five years of records before giving us the award. We are delighted – it reflects the importance we place on government regulations and environmental rules – which in turn helps our customers to meet lifecycle limits on their own products and services."
Healthy Cities is a co-operation between a number of cities around the world, and aims to create healthy cities with a high quality of life. Out of 116 companies that were audited in Turkey, only thirty six of them, including several major international concerns, received the award.