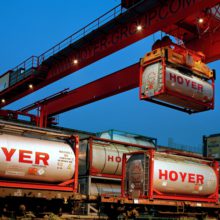 "Before the end of this year, Hoyer will be doubling the number of its tank containers located in this region from almost 100 to 200," said Günter-Friedrich Maas, Chemilog business unit director, in the run-up to the TransRussia fair in Moscow.
In addition to setting up a fleet of trucks and containers of its own, Hoyer is pushing ahead with the expansion of rail transport in Russia. "We can see huge potential for rail transport of chemical products between the Ukraine and Russia's eastern seaboard," added Maas. "We have already been able to carry out successful haulage consignments, for fertiliser, for example."
An important foundation for Hoyer's activities in Russia is the joint venture agreement signed last summer with Russian logistics group FESCO to offer intermodal transport solutions. This alliance enables both partners to implement logistics solutions, not only inside Russia, but worldwide.
Hoyer's presence in Central and Eastern Europe dates back more than a decade. In addition to the St Petersburg subsidiary there are offices in Moscow and Odessa, as well as additional branches in Kattowitz and Klaipeda.