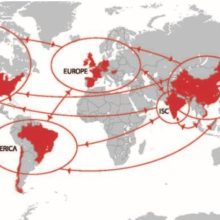 Norbert Dentressangle opened offices in Sao Paulo and Santiago in 2011 as part of the continued development of its freight forwarding business, which now employs around 600 colleagues across 52 offices in 13 countries on three continents.
Located in Rio de Janeiro, the new office provides a strategic location, giving Norbert Dentressangle a solid presence in Brazil's second largest international trading centre after Sao Paolo.
At the heart of Brazil's major oil and gas and shipbuilding industries, the new office is also important in Norbert Dentressangle's plans to develop its project cargo business to support these industries.
Antoine Pascual, Managing Director of Norbert Dentressangle's freight forwarding division in Latin America said: "Our business is developing rapidly in Latin America and the new office in Brazil demonstrates our commitment to establishing a presence in the Continent's most important trading centres".
"In addition to the provision of reliable and cost-effective sea and air freight management services, we also continue to develop our resources, capabilities and services to provide our customers in both established and emerging markets with genuine door-to-door supply chain solutions."