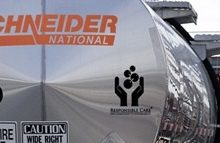 The creative new solution brings with it an abundance of benefits for chemical shippers across the country.
"Shifting certain West Coast lanes from long-haul to intermodal allows us to consistently use a small group of local drivers for repeat customer deliveries which improves our delivery service," said William Malak, vice president of North American Logistics at Nalco, an Ecolab company. "This service improves our efficiency and effectiveness to meet our industry delivery demands."
SNF, one of the world's largest producers of water-soluble polymers, agrees and has been using Schneider's Bulk Intermodal service since early last fall as part of its continuing quest to secure more capacity.
"We have had issues in the past with securing enough bulk capacity, so options that help us ensure we have transportation solutions available when we need them are of great interest," says Dave Hancock, senior logistics manager at SNF. "We also knew that we'd derive other benefits by partnering with a proactive, creative and innovative carrier like Schneider. You can definitely say this move was part of our plan for the future, and we're already seeing results — from solid service levels to reduced greenhouse gas emissions to opportunities for cutting costs."