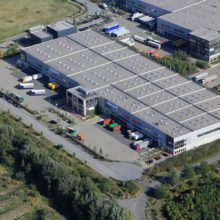 The facility has a surface area of approximately 1,000 sqm and space for 1,800 euro pallets. The temperature can be lowered down to 4degC. The temperature-controlled section is equipped with a combined cooling unit with reciprocating piston compressors and a cooling load of 36kW, and the latest safety features.
"Hamburg is an important transhipment centre for flows of commodities in the chemical and pharmaceutical industry. Lehnkering is significantly expanding its portfolio for its customers by investing in the new storage unit and is tapping into a new business segment for the business location," said Björn Liedtke, a member of the management team at the distribution logistics & services division of Lehnkering.
The logistics provider handles all the logistics work, ranging from the dangerous goods warehouse in Hamburg-Altenwerder to recipients around the globe. This not only includes technically correct storage and handling incoming and outgoing goods, but also organising the distribution for overland, maritime and air shipments. Extensive value-added services like labelling, handling exports and imports to/from destinations worldwide, tracking & tracing and packaging samples are all part of the service portfolio.
Sample dispatch services are also organised directly from Hamburg-Altenwerder. For this purpose, Lehnkering has developed a customer-oriented 'webshop', which manages and optimises all the processes connected with dispatching samples. As a result, customer sales personnel around the world can view current stocks of their samples in storage, manage them and issue shipping orders. The program automatically prepares the specific dispatch documents needed for a particular country related to the recipient's address.