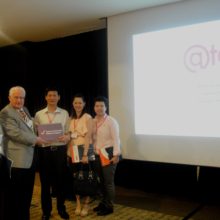 Lee, pictured second from left, handed the plaque to Teo Choo Chan, general manager of Daya Ncho Snd Bhd depot in Malaysia.
In his introduction to the meeting lee said that Asia now produces most of the world's 20ft ISO tank containers with over 22,000 produced in 2012 and he fully expected a similar number to be manufactured by the end of 2013.
"In order to help and assist this growing expansion we need to make sure we have the correct infrastructure available to clean, maintain and repair the tanks to the required industry standard otherwise this will cause a bottle neck that will slow down the growth," he commented.
"At @tco we have made a good start with our depot audit scheme but now we need to expand this much quicker to ensure the depots that will be needed are available in every Asian country."