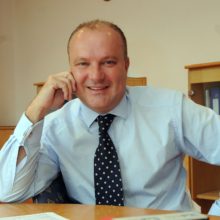 Suttons International operates globally with operations in the Americas, Europe the Middle East and Asia and Graeme will oversee all Suttons' activities that the Group provides to the chemical and petrochemical sectors.
Graeme will be based at Suttons Asian headquarters in Singapore.
Graeme has extensive senior management experience in logistics and supply chain, most recently as Suttons Director – Asia and Middle East where he has been instrumental in growing the business and extending the range of products and services Suttons provides in the region to include fleet management, supply chain management, chemical packaging, warehousing and on-site logistics.
John Sutton, C.E.O., said:
"Graeme's appointment comes at an exciting stage in the Group's development. We have grown by 40% in the last two years and Asia and the Middle East have been key to that growth. We are confident Graeme can build on his successes and deliver sustainable growth and maintain the high levels of quality of service that our customers have come to expect from Suttons."