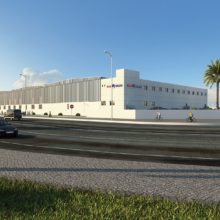 For the Talke Group, the complex under construction on the grounds of Dubai World Central is the latest expansion of its presence in the Middle East, joining locations already operational in Saudi Arabia, Qatar, Oman and Bahrain. "The production as well as the import and export of speciality chemicals is gaining in importance here in the Gulf region," remarked Richard Heath, director Middle East & Asia at Talke and director at RSA-Talke. "As part of this trend, we support our customers by providing added capacity for high-quality and safe logistics services," added Abhishek Ajay Shah, director of operations & business development at RSA and also director at RSA-Talke.
The hazardous-materials storage facility planned by the partners will offer more than 19,000 pallet spaces. It is expected to be operational by the first quarter of 2014. RSA-Talke customers will benefit from a broad spectrum of logistics services for non-hazardous and hazardous materials, as well as a location with good traffic and transport links on the grounds of Dubai World Central, with direct connections not only to regional and international road and sea routes but also to Al Maktoum International Airport.
Also recently announced, Hoyer is setting up a joint venture with the Globe Marine Group of Saudi Arabia and the Sharaf Group of the United Arab Emirates. The companies concerned signed an agreement to this effect in May in Dammam.
The new joint venture will be named and branded as Hoyer Saudi Arabia and will start operating immediately, with a head office located in Dammam and branches in Al Jubail and throughout Saudi Arabia. The new joint enterprise will co-ordinate and implement intermodal liquid bulk transport in Saudi Arabia and GGC countries, a third party drumming plant in Al Jubail and focus on on-site logistics projects for the petrochemical industry.
Hoyer Saudi Arabia will invest in liquid bulk equipment and in the construction of an independent drumming plant in Al-Jubail. A substantial number of 20ft swapbody tank containers will be positioned from Europe to Saudi Arabia and will be based in the Kingdom for the start-up phase.