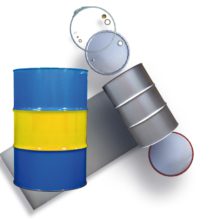 Ramsden sales director Dawn Richardson has just returned from the 2013 conference of consortium members, held in Tunis.  "I was impressed by the high standard of professionalism and technical expertise of the members," she said.
"Membership will offer us many benefits, enabling us to enhance our own systems and procedures and further develop new products and innovations, which in turn will benefit our own customers."
Membership of DRUMCO, launched in 2008 in Marseille, will mean Ramsden Steel Drums will be part of a growing organisation that uses its collective strength and status to compete internationally.  DRUMCO members are currently delivering products to many countries.
Ramsden Steel Drums is a 55 year old family company based in Tipton, West Midlands and is also launching a number of new products and services, including drums made to European-standard profiles.
Products include a range of innovative logistical and space-saving conical drums that will stack up to 68 a pallet.  The company has also launched a range of full colour-printed drums, enhancing its  traditional market for open and closed head cylindrical steel drums.
Added Dawn:  "Our focus on customer service will remain our priority and we will continue to be a family business with family values, serving our UK customers, whilst also investigating markets further afield through our DRUMCO association."
More Information ramsdensteeldrums.co.uk or 0121 557 3656.