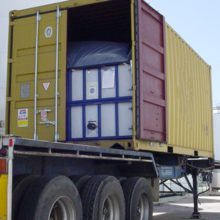 JF Hillebrand has signed a five year worldwide freight services contract with Accolade Wines, the world's fourth largest wine producer.
The contract will see Hillebrand providing complete end-to-end freight logistics services to the Accolade Wines Group, covering both cased and bulk movements. Using sea, road and rail services the wines will be moving from various origin sites across the globe to Accolade Park in Bristol, UK.
Tom Yusef, chairman of JF Hillebrand UK, said: "We are delighted to build on the partnership we have with Accolade Wines. Our relationship continues to grow, and their commitment to this five year deal is a testament to the service quality provided by the specialist JF Hillebrand team."
Accolade is a global wine company whose portfolio includes brands such as Hardys, Banrock Station from Australia, Flagstone and Kumala from South Africa, and Geyser Peak from Napa Valley in the US.
Richard Anning, global planning & logistics director from Accolade Wines, commented: "With wine production centres in Australia, South Africa and California and distribution across the globe, Accolade Wines has a very complex logistics task combined with challenging scheduling to meet customer demands. We are confident JF Hillebrand will be able to partner with us in providing the level of service our customers expect."