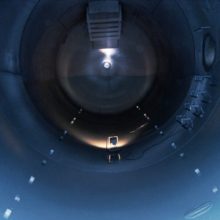 Belzona has been a global leader in the design and application of high temperature vessel linings for over 20 years. Numerous case studies from across the globe are a testament to their effectiveness and longevity even in highly corrosive environments.
In recent years, customers have expressed the need for a cost effective elevated temperature lining, which does not compromise on quality and is designed to the most stringent Belzona standards. In 2012 this system was formulated and upon successfully completing trials, introduced to the Oil & Gas upstream and downstream markets.
To satisfy clients' requirements the elevated temperature lining system offers long-term corrosion protection and is resistant to a broad range of chemicals commonly found in process vessels and storage tanks. Quick back to service time is facilitated by fast application and rapid cure time. Belzona is committed to complying with and improving the standards of Health and Safety, hence the new lining system is 100% solid.
"The Belzona 5800 Series coatings combine the high levels of product quality and performance synonymous with Belzona, with the cost-effectiveness of a glass-flake solution. These coatings have been rigorously tested to Oil & Gas industry standards in order to ensure that they represent the best possible balance of cost, performance and longevity in service." – Jevon Pugh, R&D Manager, Belzona Polymerics Ltd.
Belzona is not just a product manufacturer but strives to provide a complete supply and apply package through its Global Distribution Network. This network was created to provide clients with direct access to Belzona's quality products, specialist application, inspection/ supervision and training services. It is Belzona's mission to meet specialist repair and maintenance needs in its target industries and markets worldwide.