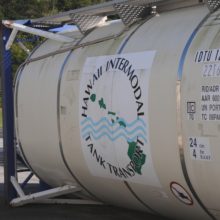 Odyssey Logistics & Technology Corporation (OL&T) has through its affiliate OL&T FoodTrans LLC acquired the bulk liquid food products transport business of Florida-based Hawaii Intermodal Tank Transport (HITT).
HITT is said to operate the largest fleet of double insulated and refrigerated ISO tank containers exclusively dedicated to moving food-grade products.
"It is HITT's ability to deliver environmentally-responsible and sophisticated temperature controlled, high purity logistics solutions for road, rail and ocean transport that earned them the competitive edge and impressive growth that drew OL&T's attention," said Robert Shellman, OL&T president and CEO.
As part of the transaction, OL&T will acquire rights to the well-established Hawaii Intermodal Tank Transport brand. The new business will be integrated with the intermodal tank services of OL&T's Optimodal business unit under the leadership of Greg Snyder, president of Optimodal, Inc. Following the acquisition, the seller will continue to provide exclusively aseptic transportation of food grade products under the 'AsepTrans' name.
Shellman added: "We are very happy to also announce that HITT's founder, Bahman Sadeghi, will join the Odyssey leadership team as we drive to increase business globally." Bahman commented: "We are very excited about the additional capability that OL&T brings, and my team looks forward to the accelerated growth this will deliver."
OL&T's logistics network crosses North America, Europe and Asia, serves all transport modes, and moves US$65 billion in cargo through 200,000 transport lanes and 250 ports using its proprietary global technology platform to improve efficiency, reduce transport costs and provide information to improve decision-making.