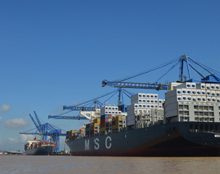 Portonave – Terminais Portuários de Navegantes – increased its net operating revenue from port operations by 22% to a total of R$333.7m (US$149m) last year, even though the local currency was devalued against the dollar and lower-than-expected Brazilian GDP growth of just 2.3%.
According to the company's head of administration, Osmari de Castilho Ribas, "Portonave continued to record container handling and revenue growth, despite fierce competition and the unfavourable economic scenario". The terminal handled 705,790 teu in 2013.
The facility continued to handle more cargo than any other port in Santa Catarina, accounting for 45% of the total, fuelled by operational progress. The company invested R$80m (US$36m) in new equipment to expand its capacity, with the acquisition of three new ship-to-shore cranes and five rubber tyred gantry cranes helping to break its productivity record.
In January and February this year, container handling reached 104,652 teu, 7.6% more than in the same period last year; in March the terminal handled an impressive 177.8 containers per hour, while operating the Hanjin Boston vessel.
"We have become consolidated as one of the country's most efficient port terminals, allowing us to project sustainable growth in the coming years," declared Renê Duarte, head of operations.
Last year the terminal was voted "Port Operator of the Year", recognising its operational efficiency and concern for sustainable development. It also received the "Citizen Company 2013" environmental award from the ADVB (Brazilian Association of Sales and Marketing Managers). On the social responsibility front, projects such as Contêm Cultura e Onda: Por um mundo melhor benefited thousands of children and teenagers in Navegantes and the surrounding region.
The Company also sponsored around 45 projects and initiatives, with direct investments via the fiscal incentive laws exceeded R$1m (US$446,000).
Portonave is a privately-owned terminal located on the left bank of the Itajaí-Açu River, in Navegantes, Santa Catarina.  Since it began operations in 2007 it has handled 3,341 ships and 3.11m teu.