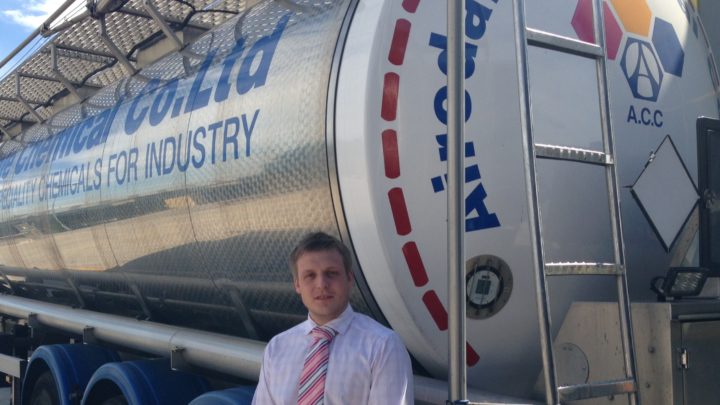 Can you give a brief insight into Airedale Chemical, the company's history and the main business areas in which it operates?
Our business was established in 1973 and has enjoyed over 40 years of growth and success within the UK chemical industry.
It's a bit of a cliché but we have come a long way since our humble beginnings. Airedale Chemical was established in Bradford, West Yorkshire by my grandfather, Founder & Late Chairman, Mr Brian Chadwick. He began making and selling his own range of dyestuff solutions, selling them into local textile companies and delivering each order by hand.
Over the last four decades, the owners and directors have focused solely on the growth of this business; it is this unrelenting motivation that we feel has led to our success. In eight years Airedale Chemical has grown by an unprecedented £25 million to £39 million turnover (around €47 million, $65 million) in 2013. This is a result of our focus on high volume/high value product lines coupled with our market leading sourcing and manufacturing resources that we have invested heavily in over recent years.
We believe our story is one of true diversification. We still proudly maintain our rich heritage in dyestuff, however now, in 2014, over 90% of our product portfolio consists of industrial chemicals, phosphates, phosphonates and surfactants that we both manufacture and distribute to some of the world's leading brands.
We now move towards 2015 with a turnover target exceeding £40 million (around €49 million, $67 million), something we are confident of securing through site expansion, investment plans and key strategic business acquisitions in new and developing areas of the chemical industry.
How do you think your customers' demands will evolve over the next five years?
Every business unit within the company will be divided on this question; however we envisage that delivery reactivity will become more important for many of our customers over the coming years. Time is money in this industry and it is our belief that next day and same day order acknowledgement will become a statutory requirement for many of our customers. It is for this reason that we now provide this service for many of our customers (where possible) in readiness for increased demands.
Awareness of the product supply chain may evolve into a stronger requirement as customers seek reassurance and evidence that both cost and quality are the best they can be. We do however envisage the greatest shift being in product diversity – new markets, new applications and innovative manufacturing techniques will bring with them a new demand for evolved chemical solutions. Managing this diversity in new product development will be key to ensuring that, as a business, we do not spread ourselves too thin. This will be a key focus.
Which geographic areas do you operate in?
Airedale Chemical currently operates on a global scale with the majority of our trade based within the UK and Europe. Other global regions that we now sell within include Asia, Middle East, Africa and Australia.
We are continually growing our global customer base and now operate over 9% of our business outside of the UK and Europe within new growing economies like India and Australia.
Which geographies do you expect to offer the most interesting market development in the next few years?
Undeniably Airedale Chemicals' largest market share and therefore greatest focus is within the UK and Europe where we continue to experience our healthiest sale uplifts year on year. Our belief (in relation to our business purely) is that within these geographic regions, the customers we supply are currently buoyant financially and are therefore in viable positions whereby new product development can be explored. These markets are also some of the more demanding globally, both for price and quality. By default this puts a great deal of pressure on manufacturers to refine and augment products and services so that they are quicker, better, but cheaper.
What are/will be the main challenges facing your key markets both today and in the future?
The greatest challenges as we see them will come from environmental stakeholders. As a chemical distributor we completely endorse every requirement to produce and handle products safely and in-line with ISO standards, so it is our responsibility to uphold this going forward. As we have experienced with new growth products, such as peracetic acid (that we are currently registering under the Biocidal Directive), products will increasingly be challenged for their environmental form; however this is a challenge that our technical teams fully embrace.
Our technical and marketing teams also monitor market growths and declines year on year and as such allow this data to shape both our sales and product development strategies. Recognisable challenges to certain industries we service are constantly identified. For example, current challenges facing the textile and agricultural industries include influxes in foreign, lower cost textile production putting increasing pressure on UK textile production. This is also coupled with the reduction of the UK dyestuff market used primarily in the textile industries. In agriculture we also identify the challenges present in the UK farming industry, as a result of increased cost saving by supermarkets. By monitoring these effects on certain markets it allows us to orientate our product development focusses on an annual basis.
Certain products remain static over a 12-month period in some markets; however seasonal products have maybe suffered more than in previous years due to the erratic weather climates. We've found that agricultural chemicals especially have been affected more than others in terms of their annual regularity. This is only to be expected given the unpredictable UK winter and summers.
Do you expect any significant shifts in revenues generated from the various market segments that you serve as a result?
Not as such, but this is difficult to predict. What we must ensure is that we counter any potential challenges and risks to our key markets. We believe this can be achieved by focussing and refining the products that we manufacture, controlling and managing peak/trough periods throughout the year, standardising formulae and increasing minimum order quantities. Careful management in this manner will avoid significant revenue shifts.
What are Airedale's plans for the future and where do you believe key growth opportunities exist for the company?
Our future plans are very much our blueprint. Generally our plan is for continued growth, which we realise is not unique for any business. Our means of achieving this, however, will be different to anything that we have done before. We have always believed very much in getting what we do best, done better. Therefore further expansion of our main manufacturing site in Cross Hills (West Yorkshire, UK) will be continued over the coming years. This will involve investment in new manufacturing technology, additional large scale storage tanks, multiple internal warehousing and extra transport. All of these elements will be key to ensuring the business can continue to service an ever growing customer portfolio.
Diversification is inherent in Airedale's DNA from the time we started under my Grandfather as a dyestuff business to today, where we are proud to be one of the UKs fastest growing chemical distributors/manufacturers; something we are passionate to continue. Food grade chemicals and new phosphate products are all planned additions to our product portfolio and will provide large growth opportunities in opportunistic markets.
Airedale Chemical | www.airedalechemical.com | Tel: 01535 637876 | enquiries@airedalechemical.co.uk