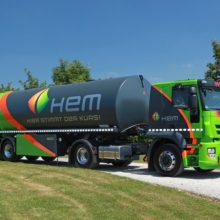 The Hamburg-based HOYER Group was able to renew its contract with the oil company Deutsche Tamoil GmbH early for an additional three years. As a result, the HOYER Mineralöl-Logistik GmbH will supply the roughly 300 HEM gas stations in northern and eastern Germany until 2018.
HOYER has already been delivering fuels to Deutsche Tamoil GmbH since July 2005. The logistics provider is using 25 vehicles daily to supply HEM's nearly 300 gas stations. As part of the contract, HOYER will invest in new low-emission Euro 6 trucks.
"Extending our contract ahead of time demonstrates our customer's satisfaction and the great trust which Tamoil places in our work", says Volker Schmitz, Director of HOYER Mineralöl-Logistik GmbH. "We look forward to continuing our cooperation with the growing company."
The HOYER Group has for many years offered individual logistics services centered on supplying gas station networks and is a reliable partner of well-known oil companies.