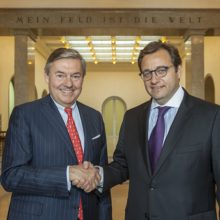 Michael Behrendt, Chairman of the Executive Board of Hapag-Lloyd (left), and Oscar Hasbún, CEO of CSAV, today at Ballin House (Hapag-Lloyd headquarters) in Hamburg after the signing.
In return for contributing its container business, CSAV will become a new Hapag-Lloyd core shareholder besides HGV (City of Hamburg) and Kühne Maritime. CSAV will initially hold a 30% stake in the combined entity. The partners have agreed on a capital increase of EUR 370 million once the transaction has been concluded, to which CSAV will contribute EUR 259 million. This will then increase CSAV's share of Hapag-Lloyd to 34%. A second capital increase of EUR 370 million will be linked to Hapag-Lloyd's planned stock exchange listing.
"I am delighted that we have succeeded in concluding this partnership through which our two companies are playing an active part in consolidating the liner shipping industry. This day is an important milestone in the history of Hapag-Lloyd," said Michael Behrendt, Chairman of the Executive Board of Hapag-Lloyd, upon signing the agreement. "The transaction increases the value of the Company and therefore also the value of our shareholders' shares."
"By joining forces, we are creating a stronger, larger and more global company with significant economies of scale and a considerably improved competitive position," said Oscar Hasbún, CEO of CSAV. The combination of CSAV's container shipping business with Hapag-Lloyd will result in annual synergies of at least USD 300 million. Service networks and fleets of both companies complement one another ideally. "The combination with CSAV, Latin America's leading container shipping line, considerably strengthens Hapag-Lloyd in this growth market and adds a strong position in the North-South traffic to the company's global network and to its established strength in East-West traffics", said Oscar Hasbún.
Order books are also complementary: While, at the end of April, Hapag-Lloyd will put into service the last of ten 13,200 TEU vessels ordered for the Far East trade, CSAV still has seven vessels, each of 9,300 TEU, scheduled for delivery in 2014 and 2015. These container ships are specially designed for the South American trade. "This means that we will have a young and cost-efficient fleet. The use of optimum tonnage in the trades is one of the key prerequisites for successful operations in the face of international competition," said Oscar Hasbún.
Both companies also fit in other regards: CSAV, founded in 1872, and Hapag-Lloyd, founded in 1847, share a similar blend of long tradition and entrepreneurial vision for the future.
"By integrating CSAV's container business, Hapag-Lloyd is able to build on its strengths and is therefore in an excellent position for future growth," said Michael Behrendt, adding: "This combination will further strengthen our service portfolio and enable us to deliver an even better global service to our clients."
The relevant corporate bodies of both companies have already approved the merger. The closing of the transaction is subject to the approval of competition authorities. Another condition is that not more than 5% of total CSAV´s minority shareholders exercise their appraisal rights till the 20th April. Until then, dissident CSAV shareholders have the right to withdraw. The company defined that this appraisal right should be exercised by holders of less than 5% of the company's total shares in order for the merger with Hapag-Lloyd to be completed.